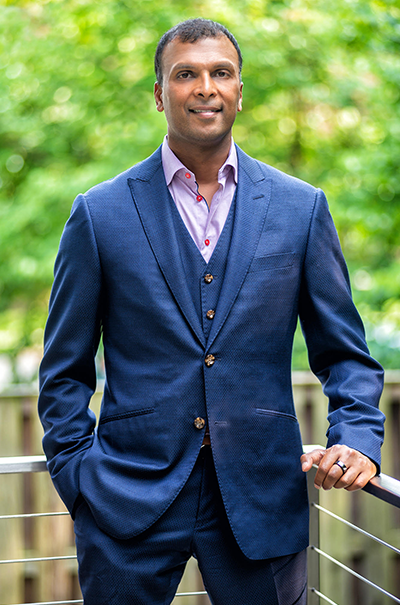 Diva Nagula, D.O., DABPMR
Dr. Diva Nagula is a board-certified physician and has extensive knowledge and training in Integrative and Functional Medicine. Dr. Nagula grew up in Alexandria, Virginia. His interest in medicine developed at an early age when he decided to follow in his father's footsteps.
Dr. Nagula graduated from Lake Erie College of Osteopathic Medicine. He completed his residency in Physical Medicine and Rehabilitation at EVMS and a fellowship in Interventional Pain Medicine at Emory University. He opened a practice in Georgia and Florida as well as the first AAAHC certified ambulatory surgical center in Camden County, where he performed cutting edge interventional procedures.
Recently, Dr. Nagula completed training in Integrative Medicine under the renowned Dr. Andrew Weil. Since his training, he has become passionate about practicing medicine that focuses on treating the root cause of diseases
Dr. Nagula was diagnosed with stage 4 non-Hodgkin's lymphoma in 2014. By integrating a holistic, functional approach to his traditional treatment regimen he beat the disease into remission and kept it there. His Wall Street Journal Bestseller FROM DOCTOR to PATIENT: Healing Cancer through Mind, Body, and Spirit takes readers inside his remarkable journey through heartfelt narrative passages that highlight the importance of balancing the mind, body, and spirit for optimal health.
Peppered throughout readers will find Medical Crash Courses that will give them valuable information on topics such as diet, inflammation, the role of the gut microbiome, mindfulness practices, and spirituality. These call-outs provide valuable building blocks that will be useful to readers both fighting a medical battle of their own or simply trying to live a smarter, healthier life.
He also released a podcast in 2019, From Doctor to Patient, where he interviews guests and has deep dives into a myriad of topics in health and wellness. His weekly blogs allow people to stay connected to the latest health and wellness trends and news.
He recently relocated to the greater Washington, D.C. area to be closer to his family and friends. He is committed to his passion for healthy lifestyles. He believes most diseases that plague this country can be prevented and treated by positive health and lifestyle changes and spiritual practices.
In his free time, he enjoys fine dining, traveling, golfing, exercising, learning and practicing mindfulness and spirituality.
Become an educated consumer with our Indigo Blogs and prevent dis-ease.
Our Doctors have been featured in: