EVOLVE TO BETTER HEALTH IN 2015, GUARANTEED
New Year's resolutions don't have to be intense, hard-to-achieve dreams. In fact, they shouldn't be! Studies have shown that setting small goals is actually more effective for creating lasting change, which is exactly what you want when it comes to improving your health. The American Psychological Association suggests changing only one behavior at a time. So, instead of trying to focus on implementing a bunch of healthy changes all at once, start by evolving just one behavior in January. Add the next behavior modification in February, and so on. Also, remember that it takes time and repetition to develop a new behavior. Just the term "New Year Resolution" can sabotage people into subconsciously believing that the changes they make at the start of the year are just that – only at the start of the year. Instead, try thinking of your resolutions as "new you evolutions." This will help you commit to the changes you are making as a new and improved lifestyle, rather than a short-term solution to a problem.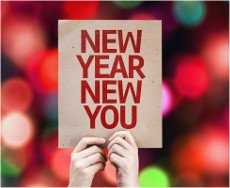 Cooking at home also allows you the ability to manage food allergies and sensitivities, as well as portion sizes. Furthermore, regularly preparing and eating healthy home cooked meals will help train your palate to enjoy healthier fare, while improving your creative cooking skills. The healthier you become, the more you will cook at home, the less you will want to eat out. When you prepare what is on your plate, you know exactly the quality of food you are consuming. Most restaurants cannot compare to the food we prepare at home.  It pains us to spend money on food at a restaurant when we know what we personally purchase to prepare at home is much healthier.
Short on time? Try setting 1-2 days aside each week to do cooking for the week. Cook in large enough quantities that you can enjoy your home-cooked food as left-overs. On your cooking days, clean, prepare and package raw veggies like carrots, cucumbers, celery or chard for quick grab and go snacks. Remember to store food in glass whenever possible.
If you are at a loss on how to start cooking at home, check out classes offered locally. If you are in a very small town, consider placing a classified add for someone to teach you or check out any one of hundreds of online cooking websites and videos.
This video is a wonderful way to sum it all up: How Cooking Can Change Your Life – Michael Pollan.
REFERENCES
SIMPLE WHOLESOME VEGGIE SOUP
Treat yourself to a healthy winter with this wholesome vegetable soup. It is flavorful, stocked with vitamins and nutrients, and unbelievably easy to prepare. Enjoy!
4 tbsp coconut oil
2 cups chopped leeks, white part only (from approximately 3 medium leeks)
2 tbsp finely minced garlic
1/2 medium onion, chopped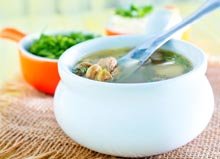 Sea salt
2 cups carrots, peeled and chopped into rounds (approximately 2 medium)
2 cups fresh green beans, broken or cut into 3/4-inch pieces
15 broccoli florets
2 quarts vegetable broth
4 cups peeled, seeded, and chopped tomatoes
1/2 tsp freshly ground black pepper
1/4 cup packed, chopped fresh parsley leaves
1 tsp fresh chopped dill (optional)
1-2 tsp freshly squeezed lemon juice
Heat the sunflower oil in large, heavy-bottom stockpot over medium-low heat. Once hot, add the leeks, garlic, onions and a pinch of salt and saute until they begin to soften, approximately 7 to 8 minutes. Add the carrots and green beans and continue to cook for 4 to 5 more minutes, stirring occasionally. Add the stock, increase the heat to high, and bring to a simmer. Once simmering, add the tomatoes and pepper. Reduce the heat to low, cover, and cook for 15 min. Add the broccoli florets and cook an additional 15 min. Remove from heat and add the parsley, dill and lemon juice. Season, to taste, with sea salt. Serve immediately.
WHAT WIKIPEDIA WON'T TELL YOU ABOUT SUPPLEMENTS
The wonderful world of supplements can be a bit overwhelming. Many supplements are available over-the-counter, yet this should not be taken as a license to self-prescribe or self-dose. Everyone's health needs are different and an individualized health plan is vital for reaching optimum health. You may not even need a supplement, or you may need more of one supplement than you do of another. Often, over-the-counter supplements (especially those in tablet form) contain binders, fillers, and additives. Magnesium stearate, silicon dioxide, titanium dioxide, starch, microcrystalline cellulose, stearic acid, simethicone, vegetable gum, talc, and propylene glycol (primary ingredient in antifreeze), are just a few of the most common additives you might find listed as "other ingredients" or "inactive ingredients" on the package supplement label.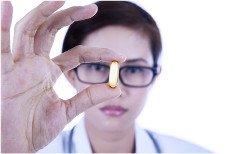 The forms of vitamins, minerals and other substances used in products can be very important. For example, consider Vitamin E. Studies indicate that using the isolated form of Vitamin E (d-alpha-tocopherol) can increase risk of cardio vascular events in someone diagnosed with heart disease. However, using the full spectrum of Vitamin E as it occurs naturally, (mixed tocopherols and mixed tocotrienols) can decrease risk and even help improve heart health. Bargain brands and other OTC Vitamin E often contain the cheaper isolated form of Vitamin E. Your ND knows about things like this and can guide you to making better choices.
Your Naturopathic Doctor can guide you toward supplements that come in forms without unnecessary additives, and which are rigorously standardized for product amount and dosage. Supplements provided by your ND will come from reputable companies that follow very strict compliance and safety standards, including the monitoring of the supplements' degradation due to expiring shelf life. Additionally, self-medicating with supplements poses the threat of drug interaction, allergic reaction, and other risks, all of which should be monitored by your Naturopathic Doctor.
Still, the most important factor remains individualization. Discuss your health concerns and appropriate supplement options with your Naturopathic Doctor to develop a supplement regimen tailored to your specific needs. Not everybody needs the same supplements in the same amount. Your ND will be able to consider your individual needs and health and choose appropriate supplements and forms that will work best for your body.
REFERENCES
Murray, N.D., Michael, and Pizzorno, N.D., Joseph. 2012. New York, NY: Atria Paperback. The Encyclopedia of Natural Medicine.
MEDICINAL HERBS: THE FRESHER, THE BETTER
When it comes to medicinal herbs, freshness and proper handling are key to getting the most potency and value. Usually due to improper storage procedures, bargain-store herbs are often not as potent as they could be. They may have sat in the store for a long time, or worse, may have been exposed to light and air, which causes dried herbs to lose their potency. Additionally, purchasing herbs from an unreputable source leaves you vulnerable to uncertainties, such as not knowing when the herbs were harvested or how they were stored and transferred.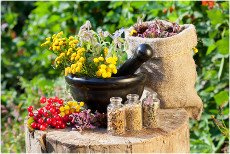 For smart herb buying, look for herb sellers who store their dry medicinal herbs in dark, amber glass containers, and in a temperature and humidity controlled environment. Potent, well preserved dried herbs should retain their natural color, and have a very strong aroma. Green herbs, such as lemon balm, should still be green. Flowers such as calendula should have a vibrant yellow-orange color, and hibiscus should retain its deep maroon color. Roots should show no signs of mold and should be very dry. When evaluating a new herb source, you may also want to ask how frequently the store's stock is rotated. This should happen rather frequently. Medicinal herbs which have already been packaged into capsules or made into tinctures provide some extra assurance, provided that the herbs were fresh when they were used to make the products. Look for tinctures preserved with alcohol or glycerine, as they hold up well over time.
Local growers are usually a great source, because they harvest their herbs in small quantities, and sell them immediately. In addition, they usually know a lot about how to handle and preserve herbs.
Medicinal herbs are not an item you should try to save a few bucks on, but you can certainly save time by purchasing your herbs from reputable sellers, such as Heron Botanicals, Blessed Herbs, or Mountain Rose Herbs.
As with changes in or questions about supplements or any change to your health regimen, it is a good idea to consult your Naturopathic Doctor for advice and assistance.
REFERENCES
Murray, N.D., Michael, and Pizzorno, N.D., Joseph. 2012. New York, NY: Atria Paperback. The Encyclopedia of Natural Medicine.
Bone, Kerry; Mills, Simon. 2013. Elsevier Ltd. Principles and Practice of Phytotherapy: Modern Herbal Medicine. 2nd ed.
There is no better time to express gratitude than the New Year. Researchers are revealing the amazing emotional and physical effects of expressing gratitude. In one study, participants were more optimistic, felt better about their lives, and visited the doctor less after writing about what they were grateful for everyday for 10 weeks. In another study, participants had a huge surge in happiness scores after being asked to write a thank you letter to someone who had positively impacted their life. Researchers have found that gratitude can even help couples. Partners who frequently express gratitude to each other feel more positive about the relationship and more comfortable when expressing relationship concerns. Even employers can benefit from expressing gratitude to their employees. Employees who are thanked by their managers work harder and have greater job satisfaction. There is an old saying, "We find what we look for." Try looking for and finding all there is to be grateful for in your life.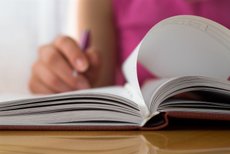 HERE ARE SOME SUGGESTIONS FOR INCREASING GRATITUDE IN YOUR LIFE:
Start your day with a list of things you are grateful for.
Write a thank you letter to someone who changed your life for the better.
Make a list of 50 things you appreciate about yourself.
Reflect at the end of each day and come up with 5 things for which you are grateful.
REFERENCES
Emmons RA, et al. "Counting Blessings Versus Burdens: An Experimental Investigation of Gratitude and Subjective Well-Being in Daily Life," Journal of Personality and Social Psychology (Feb. 2003): Vol. 84, No. 2, pp. 377-89.
Grant AM, et al. "A Little Thanks Goes a Long Way: Explaining Why Gratitude Expressions Motivate Prosocial Behavior," Journal of Personality and Social Psychology (June 2010): Vol. 98, No. 6, pp. 946-55.
Lambert NM, et al. "Expressing Gratitude to a Partner Leads to More Relationship Maintenance Behavior,"Emotion (Feb. 2011): Vol. 11, No. 1, pp. 52-60.
Sansone RA, et al. "Gratitude and Well Being: The Benefits of Appreciation," Psychiatry (Nov. 2010): Vol. 7, No. 11, pp. 18-22.
Seligman MEP, et al. "Empirical Validation of Interventions," American Psychologist (July-Aug. 2005): Vol. 60, No. 1, pp. 410-21.
The information offered by this newsletter is presented for educational purposes. Nothing contained within should be construed as nor is intended to be used for medical diagnosis or treatment. This information should not be used in place of the advice of your physician or other qualified health care provider. Always consult with your physician or other qualified health care provider before embarking on a new treatment, diet or fitness program. You should never disregard medical advice or delay in seeking it because of any information contained within this newsletter.
Become an educated consumer with our Indigo Blogs and prevent dis-ease.
Our Doctors have been featured in: