There are around 650 skeletal muscles in the human body.
KEEP YOUR IMMUNE SYSTEM IN PEAK CONDITION
The Great Defender: That's our immune system, uniquely designed to keep us healthy and defend against illness and infection. Made up of organs, including the skin, lungs, and gut, as well as specialized cells, the immune system's job is to remain on alert for disease-causing invaders and to protect our body against them.
Our immune system's first responders are white blood cells (WBCs) that are alerted to the presence of an invader. Some WBCs seek and destroy invaders while others have a cellular memory that enables the body to remember and recognize previous invaders and help destroy them. For example, if you get chickenpox, your body develops immunity to the bacteria; if you're exposed to chickenpox again, you won't contract it.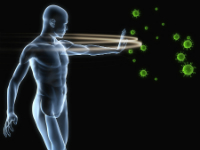 Sometimes the cellular communication goes haywire and the immune system starts attacking healthy cells in the body. This is called an 
autoimmune
 response; it can lead to autoimmune disease of which there are many types, such as Hashimoto's Thyroiditis. There are also conditions, such as Selective IgA Deficiency, in which some part of the immune response is lacking or not functioning properly.
Each of our immune systems are as unique as our individual family health history, our lifestyles, and the environmental conditions with which we live. Some folks seem to never get sick, while others catch every bug going around. The strength of the immune system also changes as we age. Because the immune system is our greatest defender against disease, it's critical that we keep it strong, healthy and balanced.
FOUR HOLISTIC WAYS TO BOOST IMMUNITY
Get Your Zz's. Sleep regenerates the entire body. Research shows that restful and regular sleep generates the hormones that help fight infection, whereas insufficient / poor quality sleep makes us prone to infection and prolongs recovery from illness.
De-stress. Persistent stress raises the level of a hormone called cortisol in the bloodstream. Over time, this creates a cascade of physiological events that result in weakened immunity. Take time out with meditation, yoga, exercise, or a walk in nature.
Say No to Sugar. A diet high in sugar interferes with optimal immune system function. Limit your intake of all sweets. Choose organic, dark chocolate when you need to satisfy the sweet tooth.
Crazy 'bout Shrooms. With 38,000 varieties, you're bound to find a mushroom you like! They're versatile in cooking, full of nutrients, and contain compounds that research shows are important to building a strong immune system. Make shrooms a part of your whole foods diet.
"Some remedies are worse than the disease." – Publilius Syrus
FABULOUS FUNGI? THE NUTRITIONAL BENEFITS OF MUSHROOMS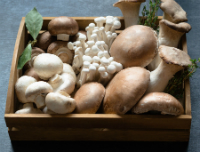 Throughout history mushrooms have been regarded as magical and mysterious, a delicacy, and deadly. Foragers put their lives on the line when hunting fungi for medicinal and culinary use. Even today, foraging for wild mushrooms should be done with an expert mycologist by your side! Fortunately, at most local grocery stores you will find a tasty selection of mushrooms that are safe to eat.
Edible mushrooms offer many nutritional benefits including protein, vitamin D, potassium and other minerals, and antioxidants. Mushrooms contain compounds called polysaccharides that promote the healthy function of the immune system.
Many mushrooms have to be foraged by hand, while others can be harvested like a small crop. This results in a difference in price. You may want to occasionally splurge for these varieties of fabulous fungi:
Truffle, crown jewel of mushrooms, is one of the most expensive foods in the world. Trained dogs are required to sniff out truffles from beneath the roots of chestnut and hazel trees. Truffles are used in exotic dishes, side dishes, soups, and dips. It's an acquired taste and those who love truffle will have it on everything.
Maitake is a late summer and autumn fungi found at the foot of oak trees. Best harvested when young and tender to retain their flavor. These are wonderful for soups, sauces, and breads.
Chanterelle mushrooms are unmistakable with their cheery yellow-gold coloring. This mushroom has a woodsy, apricot flavor. Found only in the wild, chanterelles live in a symbiotic partnership with its host tree, allowing it to store nutrients it could not acquire on its own. Chanterelles pair nicely with eggs and over rice/other grains.
Crimini ("baby bella") and porcini mushrooms have mild flavors and medium texture. Less expensive than the others, these can be used in a variety of recipes, from breads and muffins to sauces and stews.
Mushroom selection and storage can vary by type. Generally, mushrooms should be tender but firm to touch, not wet or gummy. Organic is best. Store in the fridge in a ventilated package to keep moisture out. Most mushrooms should be used within a week.
ORGANIC WILD MUSHROOM RISOTTO
Traditionally an Autumn favorite, wild mushroom risotto can be enjoyed year-round. It's an excellent meal on its own or can accompany a variety of entrees. Use organic mushrooms and rice for added health benefit. Be careful not to overseason with butter or salt, as the white wine, stock, and garlic will draw out the rich flavor of the mushrooms.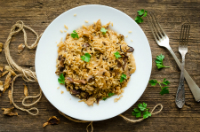 Mushrooms work synergistically, so a variety are usually blended to provide support to the immune system and natural detoxification. These blends are available in a variety of forms, such as powders, capsules and tinctures. Types of mushrooms you may find in a medicinal blend include:
Cordyceps is used in Traditional Chinese Medicine (TCM) for immune support and to replenish energy. Cordyceps extract is considered the highest class of tonic herbs for balancing the body's internal systems (Yin and Yang energy).
Lion's Mane tea has been used in Japanese herbalism; research indicates extracts may protect and support the immune system and play a role in stimulating nerve growth.
Maitake is used in Japanese medicine for supporting immune health and is noted for its antiviral effects. It contains a variety of beta glucans, minerals, and amino acids.
Shiitake supports the health of the liver and the immune system. It contains lentinan, an active compound associated with a healthy immune response. Shiitake also contains minerals, vitamins, and many essential amino acids.
Reishi, "the mushroom of immortality" is used in both TCM and Japanese medicine as a daily tonic for boosting immunity and protecting against cancer and inflammation. Reishi is not an a culinary mushroom because of its tough texture, which makes it difficult to chew.
The best choice of blends can vary from person to person; your holistic health practitioner can determine the best choice of medicinal mushrooms for you.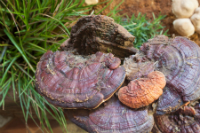 For thousands of years, practitioners of Eastern Medicine, Native Americans and indigenous cultures have used specific mushrooms for their health benefits. These fungi are often referred to as medicinal mushrooms and like all fungi, contain compounds called beta glucans within their cell walls.
Beta glucans provide support for the immune system by activating killer T-cell response to invaders in the body. Other facets of this powerful medicine include anti-cancer properties, antioxidant activity, cardiovascular support (anti-hypertensive and cholesterol-lowering), liver protective, anti-inflammatory, anti-diabetic, and anti-viral and anti-microbial properties.
Here's how D-mannose works and why it's so effective: it attaches itself to E. coli, a bacteria normally found in the intestinal tract but often proliferates in places it should not be, causing infections. D-Mannose triggers the bacteria to bind to it, instead of the urinary tract, and this helps your body flush out the bacteria during urination.
Natural medicine practitioners have long been using D-mannose to treat UTI in men and women. Recent studies comparing D-Mannose to both antibiotic and placebo have shown women taking D-Mannose had a significantly lower frequency of UTI and a lower incidence of side effects compared to those taking the antibiotic.
Talk with your holistic physician before taking D-Mannose as dose differs based on frequency and duration of infection, age, and other health factors.
ASTRAGALUS (Astragalus spp.)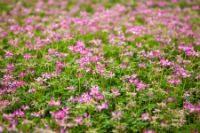 For centuries, Astragalus root has been used to strengthen the blood and spleen and – over time – help maintain the strength of the immune system, building resistance to illness and disease.
While clinical research on Astragalus is in the early stages, researchers are currently examining how it may help prevent the common cold and also be useful as a complementary treatment during chemotherapy, radiation therapy, and immune deficiency syndromes.
Meanwhile, laboratory studies and a long history of use in Traditional Chinese Medicine and botanical medicine indicate how Astragalus may help fortify the immune system:
Astragalus contains polysaccharides, which enhance the ability of white blood cells (instrumental in immune function) to eliminate foreign substances from the body.
Saponins found in Astragalus are known to protect the liver and stimulate the release of cytokines, chemical messengers in the immune system.
With its antioxidant properties, Astragalus facilitates the breakdown of free radicals, thus reducing free radical damage in the blood system.
Astragalus supports the liver, which plays an important role in detoxification.
Also known as milk vetch, Astragalus is native to the temperate areas of the Northern hemisphere. It takes a full two years of growth before the plant develops roots sufficient for harvesting their medicinal properties. Supplements are available in capsule, liquid, tincture, injectable, and extract form. This herb is commonly used in combination with other botanicals. It may also interact with other medicines, including herbal medicines. Your holistic health practitioner can determine the best way to take Astragalus to support your health and well-being.
CAN THE TUNES ON YOUR iPOD BOOST YOUR IMMUNITY?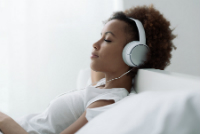 You don't have to be a neuroscientist to recognize that music has an effect on your mood. Music evokes memory, inspires creativity, alleviates boredom, lifts spirits, and enhances motivation during a workout. But can listening to music boost your physical health and, in particular, your immune system?
The answer appears to be a resounding yes.
For decades, scientists have been exploring the power of music from various angles: How does music affect everyday tasks? Does music influence states of arousal? Can music alter the response to stressors? Does music improve depression and anxiety? Can music improve recovery from surgery? Does type of music make a difference?
One of the largest studies determined that music has an impact on social bonding and management of mood; additionally there appears to be a unique relationship between stress, music, and immunity. It goes like this: frequent stress raises the level of the hormone cortisol in the bloodstream; too much cortisol deteriorates the immune response, making us more prone to illness and certain chronic diseases. Listening to our favorite "uplifting music" calms the mind and body enough to lower levels of cortisol and raise the levels of antibodies associated with fighting infection.
What Kind of Music is Best for Health Benefits?
Because musical preference is such a personal matter, it's difficult to study all the different styles and the impact on individuals. However, we can do our own research: experiment with the types of music you're listening to and record the results. Before and after listening, measure your heart rate or blood pressure and keep a journal of your mood.
Researchers are examining the healing effects of music composed specifically in tune with physiological measures and brain wave patterns. If you have specific health concerns, consider having a music therapist design a customized program for you. Ask your natural medicine practitioner for a referral.
REFERENCES
KEEP YOUR IMMUNE SYSTEM IN PEAK CONDITION
FABULOUS FUNGI? THE NUTRITIONAL BENEFITS OF MUSHROOMS
MEDICINAL MUSHROOM BLEND
ASTRAGALUS
CAN THE TUNES ON YOUR iPOD BOOST YOUR IMMUNITY?


Identify and Treat the cause




Prevention is best Medicine
The information offered by this newsletter is presented for educational purposes. Nothing contained within should be construed as nor is intended to be used for medical diagnosis or treatment. This information should not be used in place of the advice of your physician or other qualified health care provider. Always consult with your physician or other qualified health care provider before embarking on a new treatment, diet or fitness program. You should never disregard medical advice or delay in seeking it because of any information contained within this newsletter.
Become an educated consumer with our Indigo Blogs and prevent dis-ease.
Our Doctors have been featured in: