We live in a mercurial world, and that's not a good thing. Although mercury (Hg) is a naturally occurring element- found in the air, water, and soil- exposure to it, even in small amounts, causes serious health problems for adults and children. Mercury has toxic effects on the nervous, digestive, and immune systems as well as on the lungs, kidneys, skin, and eyes. It is a threat to the healthy development of a fetus and young child.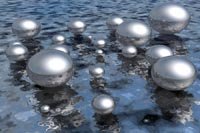 Until scientists and physicians recognized mercury as detrimental to health, it had been used in medicines and industrial applications. In the 1800s, the phrase "mad as a hatter" originated from the mental health changes observed in hatters who used mercury to process felt for head-wear. Today, we are much more informed about the risks of exposure to mercury and its detrimental effects on health. Although many other metals can be problematic, the World Health Organization considers mercury one of the top 10 chemicals that are a major public health concern.
Mercury exists in several forms, including liquid metal (quicksilver), vapor, and in organic and inorganic compounds. It is released from the Earth's crust through volcanic activity and through coal-burning and industrial processes.
Problems that arise from mercury exposure stem from a combination of factors: amount or dose, method of exposure (ingestion, inhalation, skin contact), and length of exposure. We are all exposed to low levels of mercury to some degree. Exposure can occur through contaminated drinking water; foods grown in contaminated soil; a diet high in mercury-laden fish and shellfish; medical procedures (dental, vaccination); and through accidental and occupational exposure to industrial waste.
6 WAYS TO MINIMIZE MERCURY EXPOSURE
Read labels for mercury content. Keep thermometers, fluorescent bulbs, and mercury-containing products out of reach of children.
Do not handle a leaky battery with bare hands. Wear gloves.
Contact your local environmental protection office for instructions on safe disposal of products containing mercury and other heavy metals.
Talk with your dentist about alternatives to amalgam fillings.
To avoid ingesting toxic levels of methylmercury from seafood, do not eat shark, swordfish, king mackerel, or tilefish. Eat a variety of other fish about twice a week.
When considering vaccines for yourself or a child (including the flu vaccine), ask the physician about mercury content. (Most vaccines are no longer using the mercury-containing component thimerosal)
REFERENCES
Fish and shellfish are low in fat, high in protein, and good sources of iodine, vitamin D, and selenium- nutrients often deficient in the American diet. Many fish are rich in "good fats," particularly polyunsaturated omega-3 fatty acids. The two most beneficial types of fats, DHA (docosahexaenoic acid) and EPA (eicosapentaenoic acid), have been shown to reduce inflammation and severity of heart and retinal diseases. Research shows that children born to mothers who ate low-mercury seafood during pregnancy experienced better functioning brain and nervous systems. Additionally, a diet rich in omega-3s has been shown to lower blood triglycerides and decrease the risk of sudden death from heart disease.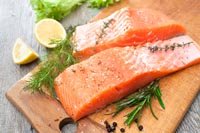 Despite these benefits, there is cause for concern. Decades of industrial activity have contaminated our waterways with mercury and other pollutants. These contaminants end up in seafood. While most commercial fish and shellfish contain some mercury, concentrations vary depending on the age of the fish, region of harvest, and diet (e.g., predators such as sharks eat smaller fish that accumulate mercury).
WHICH FISH ARE THE HEALTHIEST?
Which fish are richest in healthy omega-3 fatty acids and low in mercury? You're not going to find that information in the grocery store, but the Environmental Working Group (EWG) provides an extensive analysis of seafood. Their consumer-friendly guidelines illustrate which fish are safest and healthiest to eat and which fish to avoid.
Here's a summary of their listing to help you incorporate more of the right kind of seafood into your diet:
Very high omegas, low mercury: wild salmon, sardines, mussels, rainbow trout, Atlantic    mackerel
High omegas, low mercury: oysters, anchovies, herring
Low omegas, low mercury: shrimp, catfish, tilapia, swai, clams, scallops
Increasing levels of mercury: canned light and albacore tuna, halibut, mahi mahi, sea bass
*Avoid: shark, swordfish, marlin, king mackerel, tilefish
* FDA advisory organizations recommend pregnant women and children never eat these species.
REFERENCES
CHLORELLA, UNLOCKING THE SECRETS OF A SUPERFOOD
Chlorella is a single-celled freshwater microalgae that has flourished for nearly two billion years. Photosynthesizing its energy from the sun, chlorella is a powerhouse of nutrients. It is a natural source of vegetarian protein- about 60 percent- a very high level for a plant. Due to this high protein concentration and chlorella's naturally rapid growth rate, after World War II, chlorella was investigated as a possible food source.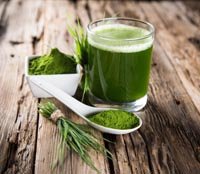 Chlorella is rich in amino acids, antioxidants, vitamins, and minerals- including B-vitamins, vitamins A and D, iron, magnesium, potassium, and zinc. This unique combination of nutrients within chlorella is a primary reason why scientists around the world are actively researching* medicinal uses for this aquatic-based superfood.
CHLORELLA'S POTENTIAL BENEFITS FOR HEALTH AND VITALITY INCLUDE:
Detoxification from heavy metals, including mercury
Supporting optimal immune system function
Antioxidant properties
Anti-inflammatory properties
Healthy cholesterol metabolism
Support for digestive health
It is widely accepted that the structure of the cell wall in chlorella allows it to bind with heavy metals, essentially keeping the phytonutrient healthy, and it's the primary reason chlorella has survived for millennia, even in polluted aquatic environments. This rare ability to bind to toxins has given rise to pre-clinical studies on the role chlorella may play in detoxification for optimal health in humans, as our internal environment is primarily aquatic.
There are many types of chlorella on the market, in pill and powder form. The cellular properties of chlorella must be broken down for human digestion, known as "broken cell-wall chlorella." Therefore, chlorella must be developed under careful quality control conditions. Additionally, Daily Values for this nutrient have not been established. It is imperative to consult with your health practitioner before selecting a chlorella supplement.
*(chemical assays, animal and limited human studies)
REFERENCES
PARSLEY, MORE THAN JUST A GARNISH
Often thought of only as garnish for a pretty plate, parsley is a delicious, vibrant green herb with many culinary uses and health benefits. The seed, leaf, and root all can be used in preparation of foods, teas, and medicines. It is widely used in Mediterranean and Eastern European cuisine.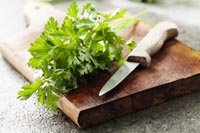 A member of the celery family, parsley is a biennial plant that contains two types of unusual components that provide unique health benefits: volatile oils and flavonoids. The active mechanisms of the volatile oil components qualify parsley as a "chemoprotective" food, which means it can help neutralize certain carcinogens such as those found in cigarette smoke. Flavonoids have been shown to function in the body as antioxidants, which can prevent oxygen damage to cells.
Parsley is also a vitamin-dense herb. A one-half cup serving provides exceptional amounts of vitamins K, C, and A. In fact, it contains three times as much vitamin C as an orange! It also is rich in folate and has twice the iron of spinach for equivalent serving sizes.
Overall, because of its nutrient-rich antioxidant profile, parsley may offer health protective benefits for the cardiovascular system, joints, and digestive system. Medicinally, parsley has been used in both ancient times and as a complementary treatment for symptoms of urinary tract infection and upset stomach.
TO REAP THE BENEFITS OF PARSLEY IN YOUR DIET, TRY:
Sprinkling parsley into stews, casseroles, sauces, soups, and rice dishes
Adding raw parsley (stems and leaves) to salads
Blending raw parsley with other herbs and fruits to make a "green smoothie"
Adding a bunch of parsley to your green juice
Wash fresh parsley immediately before use; place in cold water, swish around, and then drain. Repeat until all dirt washes away.
References
Water is commonly employed to affect the human body using hot baths to relax muscles or ice packs to reduce swelling. In holistic medicine, water is also used as a healing modality to restore proper blood flow and ultimately restore the health of the blood and the whole person. Water is a miraculous substance because it can carry great amounts of energy and heat. It conducts heat to and from a living system and can conform itself to any shape. The use of water to restore health is commonly referred to as hydrotherapy.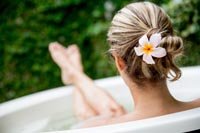 Hydrotherapy can be performed in many ways, but essentially it causes tissues to relax (heat) and then contract (cold), thereby moving stagnated blood and immune components, releasing toxins, easing stress, and flooding tissues with nutrients. There are many other types of hydrotherapy, such as alternating heat and cold packs, alternating hot and cold soaks on specific parts of the body, poultices, compresses, and constitutional hydrotherapy (typically done by doctor or trained staff). One powerful form of hydrotherapy you can do at home is bathing.
Bathing is an ancient human tradition and has been used to restore and maintain health in many cultures around the world. The key to getting the most healing effect of a bath is to make sure to use a cool/cold rinse afterward. What can you add to boost the healing effects of bathing? Try adding minerals with Epsom, Himalayan, or sea salt and/or essential oils such as peppermint or lavender.  You can even add in colloidal oatmeal to soothe and nourish the skin.
TRY THIS AT HOME
Fill your tub as full as you can with water at 93-96 degrees F, add your favorite salts or herbs, and soak for 15-20 minutes. Lightly scrub the skin with a face cloth while soaking to increase circulation of the blood to the skin surface. At the end, stand and rinse with cold water, either poured from a pitcher or from the shower.
References
Boyle, W., and A. Saine. Lectures in Naturopathic Hydrotherapy. East Palestine, Ohio: Buckeye Naturopathic Press: 1988.
Metcalfe, R. Sanitas Sanitatum et Omnia Sanitas. Vol. 1. London: Co-operative Printing Company: 1877.
Rausse, J. H., and C. H. Meeker. The Water-Cure, Applied to Every Known Disease with an Appendix, Containing a Water Diet and Rules for Bathing. New York: Fowlers and Wells: 1850.
The information offered by this newsletter is presented for educational purposes. Nothing contained within should be construed as nor is intended to be used for medical diagnosis or treatment. This information should not be used in place of the advice of your physician or other qualified health care provider. Always consult with your physician or other qualified health care provider before embarking on a new treatment, diet or fitness program. You should never disregard medical advice or delay in seeking it because of any information contained within this newsletter.
Become an educated consumer with our Indigo Blogs and prevent dis-ease.
Our Doctors have been featured in: