To all of you arachnophobics out there: Did you know that you are more likely to be killed by a champagne cork than by a poisonous spider?
DETOXING, STRENGTHENING YOUR BODY'S DEFENSE SYSTEM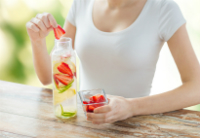 Detoxification is a natural healing process that incorporates resting, cleansing, and nourishing the body from the inside out. By eliminating toxins, then fueling your body with healthy nutrients, a planned period of detox can strengthen your body's natural "Detox Team" and help maintain optimum health.
Holistic physicians and proponents of detoxing suggest following a detox plan at least once per year, with spring and fall being the ideal approach. You may have heard critics argue the human body is designed with just the right physiological processes necessary to clear the body of impurities and maintain health. Unfortunately for many people, lifestyle habits and the environments where we live, work, eat and play often expose us to toxins that our bodies don't efficiently eliminate.
THE TOXINS YOU CAN BE EXPOSED TO EVERY DAY INCLUDE:
Heavy metals in the food and water supply
Environmental pollution
Chemical food additives
Smoking; overuse of alcohol or drugs
Use/overuse of Rx medication
Prolonged high stress
Poor quality diet and lifestyle habits
Frequent colds or chronic illness
YOUR BODY'S NATURAL DETOX TEAM
Your body naturally detoxifies itself via a Detox Team of organs that work synergistically to neutralize and eliminate toxins, with the goal of keeping the blood and cells free of impurities. The liver leads the Detox Team by processing toxins for elimination. The supporting detox defense players are the kidneys, intestines, lungs, lymph, and skin. When your body's natural Detox Team becomes compromised, impurities aren't properly filtered out. This makes it a real challenge for the Detox Team to maintain or restore health and well-being.
DETOXING BOOSTS YOUR HEALTH
Following a detox program suited to your personal needs supports the body's natural cleansing process and boosts your health in many ways:
Allows digestive organs to rest
Stimulates the liver to process toxins more efficiently
Promotes movement of bowels
Improves circulation
Enhances sweating, which facilitates release of impurities
Restores vital nutrients and energy to the body
6 THINGS TO KNOW BEFORE YOU DETOX
Before you begin a detox, prepare mentally and physically. Plan your dates a few weeks in advance. Inform the people closest to you about the time you've set aside to take care of yourself. Clear your schedule of routine obligations that may create stress. Stock up on inspirational music and reading material.
GATHER HERBAL SUPPORT Herbal and nutritional supplements such as burdock, milk thistle, dandelion, and vitamins C and B protect and support the body's Detox Team, especially the liver. They also have antioxidant effects that benefit the whole body.
HYDRATE Without enough water, toxins will not be sufficiently flushed from the body. Aim to drink at least 2 quarts of water per day with lemon/lime during a detox.
DRY BRUSH YOUR SKIN Look for a brush with soft natural bristles. Begin with light, gentle brushing over the skin (don't make the skin red). Always brush towards the heart. Shower immediately after to rinse off exfoliated skin.
GET WET Therapeutic use of water also supports detoxification. A steam or sauna can accelerate the release of toxins. Hydrotherapy provides support to the muscles and promotes relaxation. Mineral bath salts also help release toxins.
SWEAT IT OUT-GENTLY Exercise facilitates digestion, circulation, metabolism and hormone balancing. During a detox, decrease the intensity of your usual exercise routine, but do break a moderate sweat. Get outdoors for fresh air and natural sunlight. Good exercise options are easy hiking, dancing, walking, yoga, or tai chi.
REST For your mind and body to fully assimilate the benefits of detoxing, you need good quality sleep. Plan your least stimulating activities (reading, meditation, bathing) for right before bed.
HOW TO DETOX?
There are many ways to approach detoxing, from fruit and vegetable juice fasts to herbal tea cleanses. A typical approach is a short period of fasting with proper fluid intake followed by whole or raw foods and beverages before resuming your usual daily routine. There are people who must be under the care of a health practitioner, such as pregnant or nursing women or those diagnosed with certain conditions such as diabetes. In general, it's important to work with your doctor to select a program that matches your health needs.
REFERENCES
"We are shaped by our thoughts; we become what we think. When the mind is pure, joy follows like a shadow that never leaves." – Buddha
GO WILD WITH DANDELION GREENS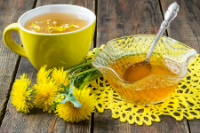 (Taraxacum officinale) dappled across your lawn, but you definitely want to make them a part of your healthy diet. For centuries, the sunny yellow dandelion, its greens and roots, has been embraced across cultures for its culinary and medicinal uses.
Dandelion roots contain several compounds beneficial to health, one of which is bitter taraxacin, which stimulates digestion. The leaves are rich in potassium, antioxidants such as Vitamin A and Vitamin C, Vitamin K, and several B vitamins.
Dandelion helps filter waste products from the bloodstream. In many cultures it has been used as a liver tonic, diuretic, and digestive aid. Herbalists have used dandelion to treat jaundice, cirrhosis and liver dysfunction. Preliminary research suggests dandelion may even strengthen liver and gallbladder function.
All parts of the dandelion are edible. The bittersweet roots may be eaten raw, steamed or dried, roasted and ground for a coffee substitute. The flowers are commonly used to make wine and jam. Dandelion greens can be eaten steamed, boiled, sauteed, braised or raw in salads.
Try adding dandelion greens to:
Quiche, omelette
Pesto
Sauce such as garlic & olive oil
Dips
Seafood soup
Sauteed vegetables
Green smoothie
Stuffing
Dandelion packs as much power in its flavor as it does in its nutrition. It can quickly overpower more delicate herbs and flavors-a little goes a long way. When harvesting dandelion, especially for salad, take greens from young and tender plants, before the first flower emerges. Greens from older plants will be larger, but also tougher and more bitter. Older leaves are better suited for cooking. At the grocery store, look for organic dandelion with vibrant green color.
REFERENCES
RECIPE: DANDELION SALAD WITH FRESH GOAT CHEESE & APPLES
Dandelion greens pack a nutritional punch. Serve them raw in this salad recipe with fresh goat cheese and apples for added flavor. If you don't have apples in season, or stored, substitute any firm fruit that's in season. You can embellish this salad with the colors of the season by sprinkling in any of our 'Super Salad Substitutions' listed below. Use organic ingredients when possible.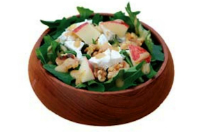 3/4 cup unsweetened pomegranate juice
2 tbsp apple cider vinegar
3 tbsp vegetable or nut oil
1 tsp Dijon mustard
1 tsp honey
Salt and freshly ground black pepper, to taste
1 bunch dandelion greens, washed and dried, stems removed
1/4 lb fresh white goat cheese, crumbled
1/2 cup walnuts, coarsely chopped
1 apple, cored and chopped into 1/2-inch pieces
Whisk vinegar, oil, mustard, honey, salt and pepper together. Pour over greens and toss lightly. Top with goat cheese, nuts and apple.
Super Salad Substitutions (or Add-ins)
Baby spinach
Endive radicchio
Shredded carrots
Yellow pepper (diced)
Pear pomegranate perils (seeds)
Instead of Goat Cheese, try Farmer's Cheese. Recipe Adapted from Mother Earth News. Roger Doiron (April/May 2008)
TEA TO NOURISH & SUPPORT DETOXING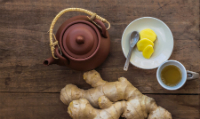 Sipping detox tea may help nourish your liver and support the body's natural process for eliminating toxins from the body. Herbs that strengthen, tone, and stimulate the secretive functions of the liver are known in the Western herbal medicine tradition as hepatics. Although research is limited, many hepatics (aka 'detox teas') have been found to boost the activity of liver cells and support the functions of the liver and digestive system.
Pre-made versions of detox teas are widely available in health food stores. These products often contain ingredients that have long been used in herbal medicinal teas and Traditional Chinese Medicine, including herbs such as:
Burdock root, seeds, and leaves are recognized for their anti-inflammatory and antioxidant effects. Burdock has been used to protect liver cells from damage, particularly for alcohol or acetaminophen-related damage, and to 'purify the blood.
Dandelion leaves and roots have long been used by herbalists as a diuretic, antioxidant, and for anti-inflammatory effects.
Schisandra berries, among the most important herbs of traditional Chinese medicine, are used to protect the liver against inflammation. In some studies, schisandra berry extract has been shown to improve the health and function of the liver in people with fatty liver disease.
Milk thistle seeds are abundant in an antioxidant silymarin, a free-radical scavenger thought to help prevent toxins from entering liver cells and stimulate liver cell regeneration, among other benefits.
Other common detox tea ingredients include ginger root, licorice root, and fennel seeds to facilitate digestion, and decrease inflammation. These herbs also help tame the more bitter flavors from ingredients such as dandelion. Fresh lemon and maple syrup, can be used to flavor as well.
Some detox herbs interact with other medications. Check with your health practitioner to choose the best detox tea for you.
REFERENCES
Vasey, Christopher. "Eliminating Toxins." The Naturopathic Way: How to Detox, Find Quality Nutrition, and Restore Your Acid-Alkaline Balance. (2009), 81-95. Rochester, Vt: Healing Arts Press.
Ram, V.J., "Herbal preparations as a source of Hepatoprotective Agents." Drug News Perspect. (2001) 14,6: 353. Accessed on January 13, 2016.
PinnacleHealth Patient Portal. "Schisandra chinensis; Schisandra spenanthera." Accessed on January 12, 2016.
Abenavoli L, Capasso R, Milic N, Capasso F. "Milk Thistle in Liver Diseases: Past, Present, Future."Phytother Res. (Oct 2010) 24,10: 1423-32.
MILK THISTLE (Silybum marianum)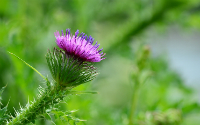 Naturally, sweet cinnamon revives our senses with its wonderful aroma and can enhance health with its medicinal properties. Cinnamon was first used in China (2700 B.C.) to treat fever, digestive, and menstrual problems. Indian healers used cinnamon to treat gastrointestinal complaints, as well as sore throat and cough. Today, modern herbalists continue to use the herb for digestive issues, chest congestion and colds/flu, but they've also discovered it helps ease arthritis pain, as well as manage blood sugar levels.
The increase in circulation during massage positively affects other systems and organs in your body. Massage helps move oxygen-rich blood and nutrients into your organs, especially the kidneys and the liver. Massage also facilitates relaxed, deep breathing- another important way in which the body naturally detoxes.
Working in tandem with the circulatory system is the lymphatic system, which carriers immune cells throughout the body to help defend against infection. The lymph system doesn't have a big central pump like the heart to keep things moving. Instead, it relies on gravity, exercise, breathing and massage to work efficiently.
If you are not feeling your best or haven't been as good about your diet and exercise routine lately, a massage can help you detox, and get back in balance naturally.
REFERENCES
University of Maryland, Complementary & Alternative Medicine Database Online. Massage.Updated on 9/24/13. Accessed on January 5, 2016.
Pacific College of Oriental Medicine.com Massage for Detoxification. Accessed on January 5, 2016.
Natural Health Advisory Institute.com Lymphatic Massage Benefits. Accessed on January 5, 2015
MASSAGE SUPPORTS YOUR BODY'S NATURAL DETOX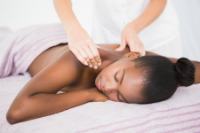 Your body's innate detox system can get sluggish for a variety of reasons such as lack of regular exercise, too little fluids or fiber in your diet, frequent colds, or high stress. A massage can rev-up your body's natural detox process.
During massage therapy, the rhythmic strokes and pressure applied to muscles, tissues, and organs stimulates the circulatory system. When pressure is applied to body tissues, toxins are released from in between the muscle fibers and cells. Toxins are carried into circulation throughout the body and eliminated in a variety of ways.
THE EUSTACHIAN TUBE'S JOB IS TO:
WHY WE CRAVE
Food craving, particularly for sweets, is more involved than not being able to resist a second slice of chocolate cake. Researchers have discovered that 'intense sweetness' (from sugar or artificial sweetener) creates a biochemical change in the brain that is a lot like the response to addictive substances. Sugar actually alters the dopamine network – part of the brain's 'pleasure response.' Other factors that play a role in the food we crave include stress, family habits, where we eat and whom we eat with, and time of day.
CURING THE CRAVINGS
Our thoughts affect how we feel, and how we feel affects our actions and the choices we make. If you're struggling with food choices and having a hard time managing sugar intake, consider cognitive-behavioral therapy (CBT). Working with a psychotherapist trained in CBT, you'll learn to identify and change thoughts that influence emotions. You'll develop insight into how even the smallest choices allow a behavior to persist and what is getting in the way of changing your patterns.
In a CBT session, clients use educational exercises, talk therapy, and simulations to change behavior. Sessions usually involve intense work over several weeks to arrive at effective solutions. If you're struggling  with cravings, depression, anxiety or addiction, give CBT a chance. It could make all the difference in your way of life.
REFERENCES


Identify and Treat the cause




Prevention is best Medicine
The information offered by this newsletter is presented for educational purposes. Nothing contained within should be construed as nor is intended to be used for medical diagnosis or treatment. This information should not be used in place of the advice of your physician or other qualified health care provider. Always consult with your physician or other qualified health care provider before embarking on a new treatment, diet or fitness program. You should never disregard medical advice or delay in seeking it because of any information contained within this newsletter.
Become an educated consumer with our Indigo Blogs and prevent dis-ease.
Our Doctors have been featured in: