SMART SHOPPER'S GUIDE TO FARMERS MARKET
It pays to be a smart shopper, but even more so when it comes to farmers markets. You want to get the most bang for your buck, but do you know what farmers market "bang" looks like? From finding the farmers market and convenience methods that work best for you, to finding the best foods and identifying your favorite producers, these 8 tips will help you navigate and get the most from your local farmers market. If you can't find a good farmers market in your area or are having trouble finding a particular kind of food, planting a garden is a great natural solution.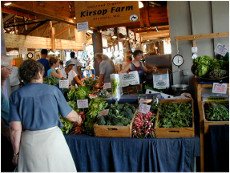 1. Map your market options.
 Shopping farmers markets and trying to save time and money without sacrificing quality and availability are tasks that require planning. The first step in this process is to find out where the markets are in your area. You may already know of a couple, but it could pay to keep your options open. The nonprofit organization, 
LocalHarvest
, makes this step easy. Their website features a grassroots directory of over 30,000 family farms and farmers markets, along with restaurants and grocery stores that feature local foods. Additionally, LocalHarvest offers customized updates about events and markets in your area, making it easy to keep up with changes and announcements. Once you have your list, you can begin to choose which markets you would like to try, based on standard facts such as days and times of operation, size and market rules and regulations.
2. Develop a carrying strategy. By shopping farmers markets, you're already improving your eating and shopping habits. Keep that momentum going and do your part to improve the environment and save your farmers some money at the same time – bring your own bags. If investing in reusable totes, you might want to consider the sturdy, flat-bottomed variety for produce and an insulated tote or small cooler for perishable goods. Also, farmers markets don't usually have carts, but strollers make an excellent substitute. Don't have a stroller? Check your local thrift shops for inexpensive options.
3. Bring small bills, score big rewards. Farmers markets and vendors vary when it comes to the types of payments they will accept. Bringing along small-denomination bills ensures that vendors are paid quickly and that the purchasing process goes smoothly no matter which vendor you're shopping with. Your reward, this one little gesture will undoubtedly create good will with vendors.
4. Peruse first, purchase last. While every farmers market is different, they all use a fair-like booth setup. When you arrive, take your time and take everything in. Stand at the front and look around, taking stock of the setup. As you make your way around to each vendor, hold off on making a purchase. Instead, take mental notes of things like prices, quality and variety of options. Once you've browsed them all and asked any questions you might have you'll be able to make educated choices about who to purchase from.
5. Know what you're looking for and how to find it. Market guidelines that govern what is allowed to be sold vary greatly. Some markets permit only vendors who offer goods they've produced or grown themselves, while others might allow vendors to sell commercially purchased products and/or foods. If you're unsure about whether a vendor's wares are local or handmade, ask them. Also, when looking for organic produce, it is important to note that the organic certification process is costly and small farms may follow organic farming principles but not be able to afford the certification process. Be sure to always ask vendors about their farming philosophy and practices. Visit the Environmental Working Group for a quick list of fruits and veggies to buy organic.
6. Be a student of nature and health. Keep a notebook and take notes, during both your preparation and while at the market. Crops and growing and harvesting seasons vary by region. In the long run, you will benefit from writing down the dates when you see your favorite ingredients first being sold. This will help you familiarize yourself with the natural cycle of food availability in your area. Incorporate notes from at home taste tests and notes about different vendors. Find out where they sell their products and when. Ask about their growing philosophy and practices. And make a note of where their farm is located, so if ever they don't have something or aren't available, you can look for another vendor from the same area, which could provide similar tasting products.
7. Get to know your farmers as people. Think of them as your favorite neighbor. Introduce yourself and learn their names as well as the name of their farm and business. When the booths aren't busy, take a couple of minutes to stop and chat. It doesn't matter what you talk about, just make a point of socially interacting with the people who feed your family. This will communicate your appreciation, but go ahead and thank them while you're at it. Respect goes a long way at the farmers market.
8. Conduct your own at home taste test. Nutritional and culinary qualities of foods vary based on a variety of factors including farming/raising techniques, geography and even handling methods. Conducting your own taste test of available foods is an excellent way to learn more about the foods and to figure out which vendors tend to produce your favorites. You'll want to purchase several of the same items from different vendors. Be sure to note the vendor's name, the price you paid and any other notes, such as the quantity and quality of the selection, the latter of which you'll learn more about as you taste the bounty.
In response to consumers' growing distrust in food sourcing, the Department of Agriculture launched the Know Your Farmer Know Your Food Compass, an online tool aimed at promoting relationships between consumers and their food sources. The Compass map shows USDA and other federally-supported projects that are fueling local food systems nationwide.
References
Photo Credit. FreeImages.com.
Local Harvest.
The Pros Reveal: How to Shop at the Farmers' Market. iVillage.com.
The Crisper Whisperer: Ten Tips to Take to the Farmers' Market. Serious Eats
Native to the western regions of South America, but first cultivated in Mexico, it wasn't until the 1500's that Spanish explorers introduced tomatoes to European populations, and even then, they were often seen as unfit to eat. Today tomatoes are enjoyed worldwide at roughly 130 million tons per year. Botanically speaking, the tomato is both fruit and berry, but culinarily speaking, tomatoes are vegetables due to their cooking methods. The tomato comes in hundreds of varieties that vary in shape, size and color. Although nutrient levels will vary among varieties, tomatoes in general are widely known for their antioxidant content, including their rich concentration of lycopene. Tomatoes have been linked to heart health, bone health and even to lessening the risk of some cancers, including prostate cancer and possibly breast cancer. Research also has shown that tomatoes may help to lower cholesterol and possibly reduce the risk of neurological diseases, such as Alzheimer's disease.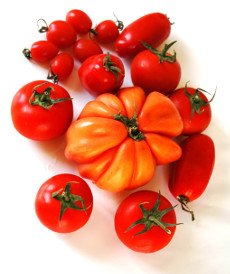 Additionally, tomatoes are a great sources of vitamin C, beta-carotene, manganese and vitamin E, and they are off the chart in regards to phytonutrient content. Research has shown that lycopene contents are higher when the whole tomato is used, so it makes sense to try to develop recipes that utilize the entire tomato. Although tomatoes are available year-round across the U.S., some of the most delicious tomato flavors come from fresh tomatoes that have been planted in late spring or early summer and ripen from July through September. Choose tomatoes that have rich colors – from deep reds to vibrant oranges/tangerines, brilliant yellows and rich purples, they all provide outstanding nutrient benefits. Tomatoes should be well shaped and smooth skinned with no wrinkles, cracks, bruises or soft spots. It is also a good idea to avoid using aluminum cookware when cooking tomatoes. The high acid content of the tomatoes could interact with the metal in the cookware and thereby add aluminum to your food, which is not only unpleasant in taste, but could be potentially hazardous to your health.
References
Photo credit. FreeImages.com.
Tomatoes. World's Healthiest Foods.
Marz, Russell B. 1999. Medical Nutrition From Marz: A Textbook In Clinical Nutrition. Portland, Oregon: Omni-Press.
Gaby, Alan. 2011. Nutritional Medicine. Concord, N.H: Fritz Perlberg Publishing.
Adding more vitamin-rich vegetables to your diet this summer is easier than you may imagine. This quick and easy salsa can be served for Cinco de Mayo, along with GMO-free tortilla chips for a healthy and festive addition to your Memorial Day cookout, and as a topping for grilled lean meats throughout the rest of the summer. This recipe will make about two cups, perfect for summer get-togethers.
4 – 6 ripe plum tomatoes, chopped
½ cup chopped onion (red or white)
1 jalapeno chili, stemmed, seeded and finely chopped
½ cup chopped fresh cilantro
2 tablespoons fresh lime juice
½ teaspoon salt or to taste
½ teaspoon fresh black pepper or to taste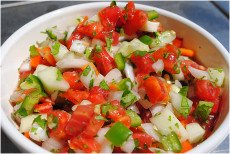 An a medium-size mixing bowl, combine all ingredients until well blended. Cover and let stand for at least 30 minutes to let the flavors blend. Give it a stir, taste and adjust the seasonings before serving. For a smoother salsa, put all ingredients into your blender or food processor and pulse the mixture a few times until it's at your preferred consistency. This fresh tomato salsa recipe can be stored covered in the refrigerator and is best if used within 1 to 2 days.
References
Photo Credit. Isabell at Home.
Lycopene is a carotenoid pigment that gives fruits like tomatoes, watermelon, pink grapefruit and guava their red color. Unlike some common carotenoids, lycopene cannot be converted to vitamin A, but many of the foods that contain a good source of lycopene do in fact contain vitamin A outright, providing additional health benefits. Diets high in carotenoid-rich fruits and vegetables are often associated with reduced risk of cardiovascular disease and some cancers. Some studies have found that high lycopene intake lowers the risk of developing aggressive forms of prostate cancer in men.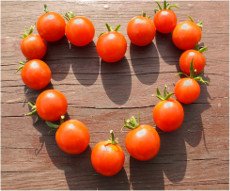 While the scientific interest in lycopene's potential to help prevent prostate cancer is significant, more research is needed to understand if the decreased risk is due to lycopene itself or other compounds associated with a lycopene-rich diet. Tomato products like paste and puree are the highest lycopene contributors due to their processing and preparation. Be careful with purchasing products that have harmful additives. It has been estimated that 80% of the lycopene in U.S. diets comes from these products. Watermelon and whole-form tomatoes also are excellent sources of lycopene and you can increase the bioavailability of their lycopene content by chopping, puréeing, and cooking them in oil (make sure to use an oil that is suitable for high heat, olive oil not included). Tomato paste has an exceptionally rich lycopene content level, and it's easy to make your own, so easy that we've included the recipe, below. Additionally, it has long been thought that tomatoes need to be a 
deep red color to be an outstanding source of lycopene
, however recent research suggests that this may be a common misconception. A small preliminary study has shown that the lycopene from orange- and tangerine-colored tomatoes may have an advantage over the lycopene from red tomatoes, through more efficient absorption. More research is needed in this area, but you can rest assured that no matter what the color of your tomatoes, you'll be serving your health well by adding more of these fruits to your diet.
Make your own tomato paste:
Sauté a couple cloves of chopped garlic and 1 or 2 large onions, chopped, for a couple of minutes until they are translucent.
Add 8 to 10 tomatoes, peeled and pureed, along with several teaspoons of fresh, chopped–or a teaspoon of dried–oregano, basil and any other herbs you enjoy, such as parsley or rosemary.
Simmer for 30 to 45 minutes, or until thick. Then remove the mixture from the heat, drizzle with olive oil and add sea salt and freshly ground black pepper to taste.
References
Photo Credit. FreeImages.com.
Carotenoids: Alpha-Carotene, Beta-Carotene, Beta-Cryptoxanthin, Lycopene, Lutein, and Zeaxanthin. Linus Pauling Institute.
Tomatoes. World's Healthiest Foods.
Marz, Russell B. 1999. Medical Nutrition From Marz: A Textbook In Clinical Nutrition. Portland, Oregon: Omni-Press.
Gaby, Alan. 2011. Nutritional medicine. Concord, N.H: Fritz Perlberg Publishing.
With more than 60 varieties of basil, this one herb can take you on a culinary adventure that will benefit your health, while it entertains your taste buds. This highly fragrant plant has traditionally been used in cuisines around the globe from Italian to Thai, Vietnamese and Laotian. Packed with vitamins A, C and K, manganese, copper, calcium, iron, folate and omega-3 fatty acids, it is no wonder that basil carries with it a tradition of reverence, from being a symbol of hospitality in India to one of love in Italy. Research has shown that basil provides protection at the cellular level and has anti-bacterial properties.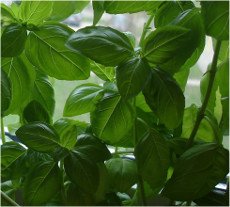 In fact, studies have shown that the essential oil obtained from basil leaves can protect against several species of antibiotic resistant bacteria strains. Washing your produce in a 1% basil concentration can nearly eliminate Shigella, a diarrhea inducing bacteria that can cause significant intestinal damage. Overall, basil helps protect against heart attack, stroke, asthma, osteoarthritis, rheumatoid arthritis, and promotes cardiovascular health. Whenever possible, choose fresh basil over the dried variety, as fresh basil provides the best flavor. Fresh basil leaves should be a vibrant, deep green color without spots or yellowing. Store fresh basil in the refrigerator wrapped in a slightly damp paper towel, or preserve it for use in fall and winter soups by freezing. When cooking with basil, remember the adage "save the best for last" and add the herb near the end of the cooking process. Basil's oils are volatile and should not be cooked for long. An easy way to incorporate more basil into your diet is to pair it with uncooked foods, like salads. Incorporating fresh basil in a vinaigrette will ensure that your uncooked greens are safe to eat. You may also want to try adding fresh chopped basil with garlic and olive oil to yield a pesto fit for a variety of dishes including pasta and fish. Or if you're feeling a bit more adventurous, add basil to a healthy mix of eggplant, cabbage, chili peppers, tofu and cashew nuts to create a health benefiting Thai dish.
References
Photo Credit. FreeImages.com
Basil. Worlds Healthiest Foods.
Marz, Russell B. 1999. Medical Nutrition From Marz: A Textbook In Clinical Nutrition. Portland, Oregon: Omni-Press.
Gaby, Alan. 2011. Nutritional Medicine. Concord, N.H: Fritz Perlberg Publishing.
Recent years have seen gardens popping up in some of the most unexpected places – retirement homes, after-school programs, and even prisons – where, it turns out, they have proven to be a very beneficial form of therapy and rehabilitation on multiple levels. Horticultural therapy is a centuries-old practice that began as a treatment for mental illness. Over the last 75 years that net has expanded to include physical rehabilitative care, memory care, and even social and work-related rehabilitation. The possible benefits of horticulture therapy include improvement in memory, cognitive abilities, language and social skills, as well as coordination, balance, endurance and muscle strengthening. Gardening with purpose also can help teach people to work independently, problem solve and follow directions. While many therapeutic gardens are designed by landscape architects for clinical application in order to promote a specific set of therapeutic benefits, you too can create your own garden oasis for at-home therapeutic use.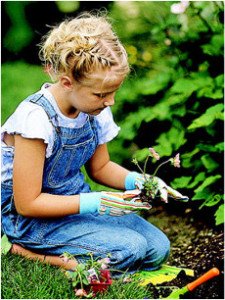 The first step is to decide what kind of therapy you want to use your garden for. If you have mobility limitations, an enabling garden with gently graded accessible entrances and paths and raised planting beds may be right for you. If you want to promote learning and memory care, consider incorporating a sensory-oriented plant selection focused on color, texture and fragrance. If you have kids, you may want to consider making your garden a fun place for them to learn and play as well. Give your child a kid-friendly planter and encourage them to plant and maintain their own assortment of flowers and herbs. Hang a tire swing from a tree in your yard for your child to play on. If you want to encourage physical health and nutrition consider producing your own natural food supply, using organic farming principles. Or maybe you simply want a calm place to recuperate after a long day, in which case you may want to consider incorporating plants with calming scents and easy upkeep. No matter what type of therapies you choose to incorporate, the key is to remember that gardening should be enjoyable and beneficial, it should not feel like work. For more ideas on how to make your garden more therapeutic, check out these resources:
References
Photo Credit. Annies Gardens.
Gardeners Hand Care Routine. Garden Therapy.ca.
About Horticultural Therapy. American Horticultural Therapy Association.
Can Gardening Help Troubled Minds Heal? The Salt. National Public Radio.
Characteristics of Therapeutic Gardens. The American Horticultural Therapy Association.
American Society of Landscape Architects.
Therapeutic Landscapes Network. Healthcare and Therapeutic Design Professional Practice Network.
The information offered by this newsletter is presented for educational purposes. Nothing contained within should be construed as nor is intended to be used for medical diagnosis or treatment. This information should not be used in place of the advice of your physician or other qualified health care provider. Always consult with your physician or other qualified health care provider before embarking on a new treatment, diet or fitness program. You should never disregard medical advice or delay in seeking it because of any information contained within this newsletter.
Become an educated consumer with our Indigo Blogs and prevent dis-ease.
Our Doctors have been featured in: