Body size and composition determine how much nutrients you require in order to produce the energy to function. The larger you are; the more fuel you'll need to function-and the higher your BMR will be.
CAN YOU REV-UP YOUR METABOLISM?
It's not unusual to blame your shrink-resistant waistline on a slow metabolism. But that's not usually the culprit keeping you from reaching your ideal weight.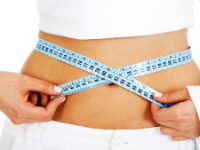 WHAT IS METABOLISM?
Metabolism is your body's method of converting calories, from the food you eat, into energy needed to power all the physiological processes that keep you alive and kicking 24/7. The minimum amount of energy your body needs to keep you going is called Basal Metabolic Rate (BMR).
Calories in food – protein, fat and carbohydrates – fuel your BMR. Each of us requires a unique daily number of calories to maintain BMR so we can breathe, grow, think, sleep, digest food, and filter waste. Age and lifestyle are significant factors in calculating BMR. If you sit more than you move each day, your BMR is lower and your daily calorie needs are lower, too.
Losing or gaining weight is about energy balance (calories taken in – calories burned off). Take in more calories than your body needs for maintaining BMR (or take in more calories than you use for physical activity) and you will gain weight.
IT'S IN MY GENES!
Your genes (and hormones) play a role in metabolism because they can influence the potential you have to grow muscles (how dense and how big) and how your body stores fat. However, genetic and hormonal mechanisms in metabolism are extremely complex. There are no definitive theories. Yet, many people have lost and maintained a tremendous amount of weight despite their family history. Many health experts agree, "Your genes are not your fate."
Chances are your 'slow metabolism' has more to do with your diet and the type of exercise you are (or are not) doing on a regular basis. The more your work out, the more fat your burn, the more muscle you gain, the higher your metabolism.
If your exercise routine builds lean muscle, that helps rev-up your metabolism. Muscle tissue requires more energy to maintain than fat tissue. This is why people with leaner bodies (a higher muscle to fat ratio) have a higher BMR. (Those are the folks who eat carrot cake that doesn't 'go right to their hips.')
BUILD A 24-HOUR FAT BURNING BODY
The first key to revving-up metabolism is eating an organic whole foods diet: lean protein, high quality grains, plant-based fats and oils, fresh fruits and veggies, and drinking lots of water.
To really turn-up the heat on your metabolism, and your waistline, you'll want to try the muscle-building, never boring workouts listed below. These workouts help your body generate a 'post-exercise burn' that can rev up your metabolism for 2 – 24 hours after you finish a workout. Factors that determine the afterburn effect include your current fitness level and body composition, the intensity and duration of exercise, and type of exercise performed.
Just remember: Our bodies are designed to adapt; beginners to elite athletes both have to change-up their routine every few weeks to continue to see progress.
CIRCUIT TRAINING. Exercises all the major muscle groups in one workout (30-45 minutes) and may include body-weight movements, machines, dumbbells, and exercise bands. Exercises are performed for 8-12 reps, 1-3 sets of each.
HIGH-INTENSITY INTERVAL TRAINING (HIIT). These workouts alternate bouts of maximal physical effort with a rest (or lower intensity) period for set times (e.g., 40 seconds max, 15 seconds lower effort). HIIT principles can be integrated into a variety of exercise routines including walk/run, swim, weight training, and group classes. Research shows an increase in calorie burn for up to 24-hours post exercise.
METABOLIC CONDITIONING. Routines are highly intense and designed to engage different physiological "energy" pathways in the body. These workouts typically use a "suspension exercise system" (e.g., TRX) but can be integrated into other fitness activities. It's best to have a metabolic exercise routine designed and supervised by an experienced exercise specialist who can appropriately alter the intensity, reps, sets and rest intervals.
CROSSFIT. Often done as a group activity, this involves a variety of functional movements that engage the whole body at a relatively high intensity. The routines involve running, rowing, squatting and other exercises that support the way your body moves on a daily basis. The aim is to generate maximal power in as little time as possible to get stronger and fitter.
Calculate your BMR here.
REFERENCES
"Body love is more than acceptance of self or the acceptance of the body. Body love is about self-worth in general. It's more than our physical appearance." – Mary Lambert
CAN RED HOT CHILI PEPPERS HELP YOU LOSE WEIGHT?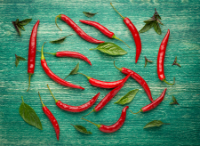 Bite into a hot pepper, or chili, and you'll instantly feel the 'flame effect.' But can these fiery fruits actually boost your metabolism and promote weight loss?
To a degree, the scientific answer is YES.
Chilies get their heat from an oily chemical compound called capsaicin, which is concentrated in the membrane surrounding the seeds of the Capsicum plant. In studies, Capsaicin boosts thermogenesis – the process by which the body turns calories into heat to use for fuel. However, the effect on weight loss is modest, at best.
HERE'S WHY:
Given the pungency of peppers, it's difficult for anyone, even a person with a great tolerance for spicy foods, to eat hot peppers often enough and in a sufficient enough serving to lose weight via the 'chili pepper effect.'
Even though we can't eat enough hot peppers to result in weight loss, incorporating chilies into your diet promotes good health in other ways. Chilies are rich in vitamins A, E and K and potassium. Additionally, in scientific studies capsaicin (in capsule form) has been shown to help reduce pain and inflammation, boost immunity, lower the risk for Type 2 Diabetes, and clear congestion associated with colds. They even make topical crams with capsaicin to decrease muscle pain and inflammation.
Caution: Biting into a raw or cooked chili pepper creates an intense heat inside the mouth (the flame effect). If that happens to you, drink milk (or almond milk if you are dairy free) or eat cottage cheese or plain yogurt to tame the heat. Also, if you're not accustomed to eating chili  your throat may swell and your body may react to the peppers, causing you to vomit. Go easy!
THE HOTTEST OF THE HOT
The Scoville scale measures the heat of chili peppers. The following list shows chilies in the order of their Scoville Heat Units, from high heat to modest heat:
Habaneros and Scotch bonnets
Cayenne pepper
Tabasco pepper
Thai chili pepper
Jalapeno and Serrano chili peppers
HOT TIP: If you can't remember which are the hottest of the hot peppers, look at the thickness of the stem. The thinner the stem, the hotter the pepper (and higher the capsaicin). Red peppers are hotter than green.
REFERENCES
Westerterp-Plantenga, M. & Janssens, P. "Red Pepper Can Enhance Energy Metabolism And Satiety."McCormick Science Institute. Accessed on March 8, 2016.
Eckerson, Joan M. "Weight Loss Nutritional Supplements." In Greenwood, M. et al. (Eds). Nutritional Supplements in Sports and Exercise (2nd Ed.) (2015) pp. 167-168.
Diepvens, K. et al. "Obesity and Thermogenesis Related To The Consumption of Caffeine, Ephedrine, Capsaicin, and Green Tea." Amer Jnl Physiology. (Jan 2007) 292:1, p. 77-85. Accessed on March 8, 2016.
WorldsHealthiestFoods.com "Chili Pepper, Dried." Accessed on March 8, 2016.
RECIPE: VEGAN STUFFED POBLANO PEPPERS
This easy, 9-ingredient plant-based meal is packed with flavor and delicious nutrition in every bite! Aromatic brown rice and pinto beans are embellished with onion, salsa and a simple avocado crema!
Prep time: 15 minutes; Cook time: 1hr 15 min., Serves: 4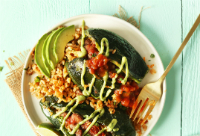 RICE
8 cups (2880 ml) water
1 cup (185 g) uncooked brown rice, this can be substituted with quinoa
1 tbsp (15 ml) grapeseed oil, olive or coconut oil
1/2 white or yellow onion, thinly sliced (55 g)
1/2 tsp ground cumin
1/4 tsp sea salt
1/3 cup (85 g) chunky red or green salsa, plus more for topping; a homemade salsa or pico de gallo would work here as well
1/4 cup (15 g) cilantro, plus more for serving
PEPPERS
4 poblano peppers, skin on
1 tsp grapeseed, olive or coconut oil
BEANS
1 15-ounce (425 g) can pinto beans, lightly drained (if unsalted, add additional salt)
1/4 tsp ground cumin
Sea salt to taste (~ a pinch)
FOR TOPPING (optional)
Add 8 cups water to a large pot and bring to a boil over high heat. Once boiling, add rice and cook for 30 minutes. Drain and return to pot off of heat, and cover for 10 minutes. Set aside.
In the meantime, preheat oven to high broil and place a rack at the top of your oven. Lightly brush whole poblano peppers with oil. Place on a baking sheet and broil on high for 1-2 minutes on each side, or until lightly blistered. Turn oven off broil and preheat to 375 degrees F.
Heat a large metal or cast iron skillet over medium heat. Once hot, add 1 tbsp oil and onion and sauté for 4-5 minutes, or until soft and translucent. Next add cooked rice, cumin, 1/4 tsp sea salt, salsa and cilantro. Stir to combine. Taste and adjust seasonings as needed.
In a separate small saucepan over medium heat, add pinto beans and season with cumin and sea salt to taste. Once bubbly and hot, remove from heat and set aside. Place peppers in a lightly greased, large baking dish (9×13-inch is best) and scoop generous amounts of the rice filling into each pepper using a spoon. Top with beans and a bit more salsa and cover the dish with foil.
Bake peppers at 375 degrees F for 15 minutes, then remove foil and bake for another 10-15 minutes uncovered. The longer they bake, the more tender the peppers will become. Let cool slightly before serving with desired toppings (see options above). Best when fresh, though leftovers keep in the refrigerator for 2-3 days. Reheat in a 350 degree F oven until warmed through.
L-CARNITINE AND ENERGY FOR EXERCISE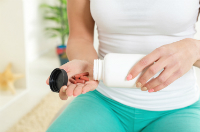 Carnitine is a biochemical found in nearly every cell in the human body. There are several forms of carnitine (e.g., L-Carnitine, Acetyl L-Carnitine), which have been studied for their effects on the heart and brain, the aging process, energy metabolism in the cells, diabetes, infertility and other medical conditions. Our focus is on the role L-Carnitine plays in energy production and metabolism for healthy individuals.
The "power" generator of the cells in your body is the mitochondria. Carnitine has a critical role in the mitochondria's ability to produce energy. It acts like a key that unlocks the door so long-chain fatty acids can pass into the cell and be "burned" for energy. Carnitine also removes waste products out of the cells to prevent their accumulation. It is highly concentrated in skeletal muscle tissue and the heart, both of which utilize fatty acids as fuel. For these reasons, L-Carnitine has received a lot of research attention as a supplement to help improve athletic/fitness performance, oxygen use during exercise, recovery time and also for weight loss.
In theory, a Carnitine supplement should boost physical performance by enhancing the body's ability to use oxygen or boost metabolism during exercise. Exercise scientists have examined the effect of L-Carnitine on recovery and muscle repair after intense sport conditioning in healthy adults (including vegans, vegetarians) and youth athletes. Overall, studies indicate 1-4 g/day of L-Carnitine enhances recovery, particularly muscle repair, from intense weight-training, sport conditioning, and endurance exercise in healthy individuals. Because of the wide variety of studies, it's important to talk with your health practitioner to see if L-Carnitine may be a beneficial supplement for you.
The body produces sufficient Carnitine for the needs of most healthy people. If your diet includes lean cuts of meat, fish, and poultry, you are getting adequate Carnitine. Vegans may want to check with their health practitioner if they are concerned that their diet is not providing sufficient Carnitine.
REFERENCES
National Institutes of Health: Office of Dietary Supplements. "Carnitine: Fact Sheet for Health Professionals." Updated Feb 11, 2016. Accessed on March 11, 2016.
Eckerson, J. M. "Nutritional Supplements to Enhance Recovery." In Greenwood, M. et al. (Eds). Nutritional Supplements in Sports and Exercise (2nd Ed.) (2015) pp. 290-291.
Brass, E. P. "Supplemental carnitine and exercise" Am J Clin Nutr. (2000) 72:6; 18S-23S.
Spiering BA, Kraemer WJ, et al., "Effects of L-Carnitine L-Tartrate Supplementation on Muscle Oxygenation Responses to Resistance Exercise." J Strength Cond Res, (2008) Jul, 22(4):1130-5. Accessed on March 12, 2016.
Ho JY, Kraemer WJ, et al., "L-Carnitine L-Tartrate Supplementation Favorably Affects Biochemical Markers of Recovery From Physical Exertion in Middle-Aged Men and Women." Metabolism (2009, Dec). Accessed on March 12, 2016.
CAYENNE (Capsicum annuum)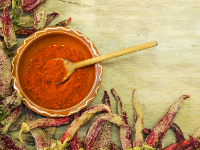 A popular ingredient for giving a kick to salsa and other dishes, Cayenne has numerous health benefits including reducing blood cholesterol and triglyceride levels, reducing pain and inflammation, providing relief for heartburn, moderating blood sugar level, and helping to break down carbohydrates during digestion. All of that is due to a potent chemical, capsaicin, found in the thin skin surrounding the seeds.
Cayenne (capsaicin) supplements have been studied for their ability to curb appetite, increase resting metabolic rate (turn-up your metabolism), and stimulate the breakdown of fats for energy. Short-term studies (12 weeks or less) with athletes, individuals who are of average weight, and those who are obese have shown cayenne does raise metabolism by about an extra 50 calories burned per day. In one to two years, if you did nothing else special with your diet and exercise routine, you'd lose a little weight.
Other studies have looked at different amounts of capsaicin taken and how it is prescribed (ex., taken before, during or after a meal) plus a person's general health status. Capsaicin has an affect on how full a person feels (satiety) before, during, and after a meal as well as food choices people make. (The latter, scientists think, has to do with how cayenne supplements are digested). The amount of capsaicin taken, to a certain point, also affects the amount of change in metabolism and the effect on appetite. A holistic health practitioner can best determine the amount of capsaicin that will help you with your weight loss or other health goals.
A capsaicin supplement is a great way to support your metabolism when you are trying to lose weight but it's not a "miracle diet pill." You still need to follow an overall healthy diet and consistently participate in an
REFERENCES
WHEN LIFE HEATS UP, CHILL OUT WITH YOGA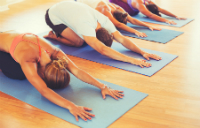 If daily hassles, constantly chiming cell phones, and past-due deadlines have you at the boiling point, simmer down to the yoga mat and find a little peace of mind.A mind-body practice, Yoga combines physical poses (postures) called asanas, simple breathing exercises and guided meditation.
Anyone can practice yoga and experience the health-enhancing benefits:
Reduce blood pressure
Lower resting heart rate (so the heart works more efficiently)
Promote mental alertness
Better manage symptoms of anxiety and depression
Improve muscle tension associated with stress and chronic health conditions
There are many 'styles' of Yoga for you to try. Styles vary in how many and the intensity of how the poses are performed; some styles are more intense (Bikram, Power, Iyengar) and others more restorative (Kundalini, Ashtanga). All yoga styles originate from Hatha Yoga, which was developed in India about 5,000 years ago. Hatha Yoga is a good choice for managing stress and chronic health concerns. It also is ideal for beginners.
A yoga class begins with breathing exercises and gentle movements to clear the mind and limber the body for the "active postures." Next, you'll move through a series of poses (standing, seated, and lying down). During class an instructor may use the ancient Sanskrit (Hindu) names and the American names for poses, e.g., Mountain Pose (Tadasana) or Triangle Pose (Trikanasana). A certified instructor helps participants modify poses to suit their unique needs.
The focus of practicing yoga is not on how long or how perfectly you perform the pose. Nor is it competitive-so no making comparisons or judgments of self and others. Yoga is all about letting go of your mental chatter by focusing on the breath and allowing it to guide your body into a calm, centered state.
Yoga class concludes with a guided meditation or relaxation exercise. This may help you learn to be more mindful and aware of yourself in any moment of your day, not just the time you spend on the yoga mat.
REFERENCES


Identify and Treat the cause




Prevention is best Medicine
The information offered by this newsletter is presented for educational purposes. Nothing contained within should be construed as nor is intended to be used for medical diagnosis or treatment. This information should not be used in place of the advice of your physician or other qualified health care provider. Always consult with your physician or other qualified health care provider before embarking on a new treatment, diet or fitness program. You should never disregard medical advice or delay in seeking it because of any information contained within this newsletter.
Become an educated consumer with our Indigo Blogs and prevent dis-ease.
Our Doctors have been featured in: