DON'T LET ACCUMULATIVE TOXINS HAMPER YOUR HEALTH
There's no denying it, toxins are everywhere in the modern world, from the air we breathe and the water we drink and bathe in, to the foods we eat and even in the materials that make up the world around us. Foods are covered in pesticides or processed with unnatural chemicals and machinery. Chemical by-products from manufacturing farms infiltrate our air and water. Oceans are polluted with heavy metals and mercury turning would-be healthy meals of seafood into poison. Dental fillings containing mercury turn every bite of food into a potentially poisonous hazard. And if that weren't enough, poisons such as fluoride, chlorine and low levels of heavy metals flow into your home through your water supply, all of which are approved by the government. Even pharmaceuticals, vaccines, hygiene, beauty, cleaning and packaging products contain a variety of toxic substances. Many of these toxins accumulate in the body and cannot be removed naturally.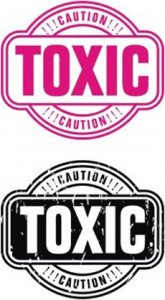 Interestingly, modern diseases like cancer, auto-immune dysfunction, brain disorders like autism, Alzheimer's and Parkinson's, nerve disorders and more common ailments like depression, learning disabilities and fatigue may have a variety of connections to the buildup of toxins in our bodies. But no matter how healthy your existing diet and lifestyle may be today, this buildup of toxins from years past can continue to negatively impact your health. With this in mind, one of the best things you can do for your health is to set a plan for ridding your body of built up toxins. Here are 6 ways you can help decrease your toxic load and reduce toxin accumulation. Check in with your naturopathic doctor for guidance in the best way to do this for you.
1. Sweat it out. Steam baths and saunas promote the release of toxins through sweating. For an even deeper detoxification you may want to consider infrared sauna treatments. Infrared saunas heat your body tissues several inches deep, enhancing your natural metabolic processes, circulation and helping oxygenate your tissues. Sweating will also help kill off viruses and other microbes. Repeated use of the sauna slowly restores the skin's ability to eliminate toxins, an action that often is inhibited by clothing, sun damage and sedentary lifestyles.
2. Burn fat, burn toxins. Toxins are stored at a much higher rate in the fat than in blood. So, it makes sense that in order to remove the most amount of toxins, you'll need to decrease fat as well. And of course, the best way to shed pounds of fat is through aerobic activity, meaning any activity that heightens both your heart and respiratory rates. Aerobic activity increases stamina and oxygen flow, tones the nervous system and strengthens the immune system. It also cleanses blood by stimulating circulation and sweating, and even releases endorphins making you feel  happier and more relaxed. Aerobic activities come in a variety of forms. Running, power-walking, cycling, swimming and even skiing are all aerobic activities. Better yet, you can have fun with your aerobic exercise and even include your kids and grandkids in the mix. Jump rope and double dutch games are excellent aerobic exercise for all ages, as are family dance parties and stair-climbing races. Always check with your doctor before beginning any new type of exercise regimen.
3. Milk thistle for liver health. Approved in 1986 for treating liver disease, today milk thistle is regularly used to treat illnesses related to toxic buildup of alcohol and acetaminophens. It boosts liver metabolism and helps repair liver cell damage from alcohol and other toxins. Discuss with your naturopathic doctor how milk thistle might benefit you.
4. Target hard-to-remove heavy metals with chlorella. Chlorella is a powerful binding agent for heavy metals including mercury. This super green food can help remove a variety of toxins from the liver and other major organs and is safe enough to use daily or as a major week-long detox. A single-celled micro-algae, its molecular structure allows it to bond to metals, chemicals and some pesticides, while not binding to the minerals your body needs, like calcium, magnesium or zinc.
5. Eat a healthy, vitamin-rich diet with plenty of fiber. Clean, nutrient- dense foods provide endless health benefits, but even better, they also provide amazing detox abilities. Fiber offers a range of benefits, one being the discouragement of weight gain, helping control the development of fat, which could store more toxins. How much fiber? The average amount of fiber needed in the diet is 30 g (females) – 40 g (males) per day. The average intake today is 15 g or less!
6. Drink plenty of filtered water. Staying hydrated is extremely important when you're detoxifying your body. Filtered water is even more important because of the toxins that lurk in water supplies. Drinking more water will of course make you need to urinate more frequently, and that's exactly the point. Urinating is another way to expel toxins from your system.
References
Photo credit. Free Digital Photos.
Foulkes, E. C. (1990). Biological effects of heavy metals. Boca Raton, FL: CRC Press.
Marz, R. B. (1999). Medical Nutrition from Marz: (A Textbook in Clinical Nutrition). Portland, Or: Omni-Press.
Vasey, C. (2009). The Naturopathic Way: How to detox, find quality nutrition, and restore your acid-alkaline balance. Rochester, Vt: Healing Arts Press.
Mills, S., & Bone, K. (2000). Principles and Practice of Phytotherapy: Modern Herbal Medicine. Edinburgh: Churchill Livingstone.
Gaby, A. (2011). Nutritional Medicine. Concord, N.H: Fritz Perlberg Publishing.
Pizzorno, J. E., & Murray, M. T. (1999). Textbook of Natural Medicine. Edinburgh: Churchill Livingstone.
Ayres, J. G. 2010. Environmental Medicine. London: Hodder Arnold.
Cabbage has a long history of use as food and medicine, dating back to ancient Celtic, Greek and Roman societies. With a deep rooted history, this gem is featured among food cultures of northern Europe, especially in German, Polish and Russian cuisine. Steaming is the best way to cook cabbage to retain the maximum nutritional value. When steamed, the fiber-related components in cabbage help stimulate excretion of bile acids in your digestive tract, resulting in lower cholesterol levels. Interestingly, research has shown that not all cabbages are created equal. To get the broadest health benefits from cabbage, include red, green and Savoy cabbages in your diet.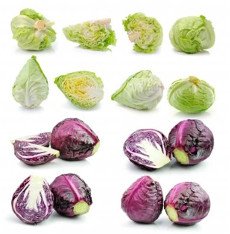 While cabbage in general is an excellent source of sinigrin, a compound that has shown unique properties that help guard against bladder, colon and prostate cancers, Savoy cabbage has the highest sinigrin content. Although, a recent study suggests that long-cooked cabbage may lose its cancer-preventive benefits, so it is important to keep steaming time to a minimum or eat this cabbage raw. Red cabbage also has additional nutritional benefits including a concentration of more protective phytonutrients than green cabbage. The phytonutrients in red cabbage are excellent dietary antioxidants, anti-inflammatories, and offer protection from a number of human diseases. Cabbage juice has long been established by health research as an aid for healing peptic (stomach) ulcers, but recent studies suggest that the benefits of cabbage may extend to the entire digestive tract.
When choosing cabbage heads, go for those that are firm and dense with shiny, crisp, colorful leaves free of cracks, bruises, and blemishes. Avoid buying pre-cut cabbage, either halved or shredded, since once cabbage is cut, it begins to lose its valuable vitamin C content. To wash, remove the thick fibrous outer leaves, cut into quarters, remove the core and cut the cabbage into pieces, then wash under running water. If you notice any signs of worms or insects, which sometimes appears in cabbage, soak the head in salt water or vinegar water for 15 to 20 minutes first. To preserve vitamin C content, cut and wash the cabbage right before cooking or eating it. Keeping cabbage cold will also help keep it fresh and retain its vitamin C content. Put the whole head in a container in the crisper of your refrigerator. Red and green cabbage will keep this way for about two weeks while Savoy cabbage will keep for about one week.
References
Photo Credit. Free Digital Photos.
Cabbage. The World's Healthiest Foods.
5-MINUTE HEALTHY SAUTÈED CABBAGE
his recipe not only tastes great, but it is packed with concentrated nutrients because of the way it is cooked. Now you can enjoy while feeling good about what you're eating. Prep and cook time: 5 minutes. Serves 2.
For the sautèed cabbage:
4 cups red cabbage, shredded
1 tbsp lemon juice
5 tbsp low sodium vegetable broth
For the Mediterranean dressing:
3 tbsp extra virgin olive oil
1 tbsp lemon juice
1 medium clove garlic, chopped or pressed
Sea salt and pepper to taste
Optional add-ins:
2 tbsp grated ginger
1 tbsp sesame seeds
5 drops soy sauce or alternative
1 tbsp chopped cilantro
Few drops of rice vinegar/rice wine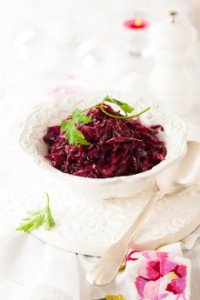 First, quarter the head of cabbage and slice into 1/4-inch strips and let sit for at least 5 minutes to bring out the hidden health benefits of cabbage. Next, chop or press garlic and let sit for at least 5 minutes. Sprinkle cabbage with 1 tbsp lemon juice before cooking to prevent it from turning blue. Then heat 5 tbsp broth over medium heat in a stainless steel skillet. When broth begins to steam, add cabbage and cover. Sautèe for no more than 5 minutes. Finally, transfer the finished cabbage to a bowl. For more flavor, toss cabbage with the dressing ingredients and any of the optional ingredients you desire while it is still hot. There's no need to make the Mediterranean dressing separately.
Experts agree, dietary fiber is an important tool in fighting and preventing heart disease, colon cancer, diabetes and even obesity. Most experts agree that a key defining characteristic of dietary fiber is that it's derived from the edible parts of plants that are not broken down by human digestive enzymes, but the official definition is still up for debate. One complication in defining fiber is that fibers come in variety of forms, some soluble, some insoluble, some viscous, some fermentable and others not.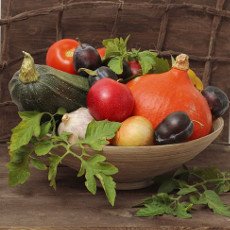 In fact, recent research suggests that coriander may help control blood sugar and cholesterol levels, as well as free radical production. Many of this herb's healing properties can be attributed to the dense content of phytonutrients in its volatile oil. A 2004 study published in the Journal of Agriculture and Food Chemistry also suggests that cilantro contains an antibacterial compound that may be a safe, natural defense against Salmonella. This particular compound, called dodecenal, is found in both the seeds and fresh leaves of cilantro, making cilantro an excellent addition to most any meal for flavor and protection. There are many ways to integrate this aromatic and beneficial herb to your diet and in doing so, here are some tips to help you choose, prepare and store it. Fresh cilantro leaves should have a vibrant deep green color, firm, crisp and free from yellow or brown spots. Highly perishable, fresh coriander should be wrapped in a damp cloth or paper towel, placed in a container and stored in the refrigerator. You may want to consider freezing cilantro in ice cube trays using water or stock to use when preparing soups and stews. Fresh cilantro is fragile, so it is best to clean it by swishing it around with your hands in a bowl of cold water, dislodging any dirt on it. Empty the water and repeat this process until there is no dirt left in the water.
References
Photo credit. Free Digital Photos.
Cilantro & Coriander Seeds. The World's Healthiest Foods.
CILANTRO (Coriandrum sativum)
One of the world's oldest spices, cilantro, dates back to 5,000 BC and is native to the Mediterranean and Middle Eastern regions. This famous herb was used in both ancient Greek and Roman cultures, mentioned in the Old Testament and used by early physicians, including Hippocrates, for its medicinal properties. The leaves of the plant have long been popular in culinary traditions of Latin American, Indian and Chinese cuisine. Medicinally, cilantro has been used in parts of Europe as a defense from diabetes, in India for its anti-inflammatory properties and recently studied in the U.S. for its cholesterol-lowering effects.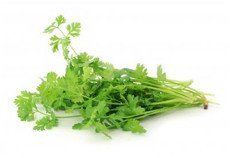 Fennel is packed with phytonutrients that provide strong antioxidant activity. Anethole, a phytonutrient compound found in fennel, has been proven in animal studies to reduce inflammation and even help prevent cancer. In addition, fennel bulb is an excellent source of vitamin C, which contributes to a healthy immune system and can help protect against pain and joint deterioration from conditions like osteoarthritis and rheumatoid arthritis. Fennel bulb is also a good source of fiber and potassium, and may help reduce bad cholesterol and protect from stroke and heart attack.
When shopping for fennel, look for whitish or pale green bulbs that are clean, firm and solid, without signs of splitting, bruising or spotting, with relatively straight and closely superimposed stalks. Both the stalks and the leaves should be green in color. Pass on fennel with signs of flowering buds as this indicates that the fennel is past maturity. Fresh fennel should be used as soon as possible, but can be stored in the refrigerator crisper for about four days. Some creative ways of using fennel, the stalks in particular, is to add them to soups, stocks and stews. The leaves can be used as an herb seasoning.
References
Photo credit. "Fennel Flower Heads" by user:Fir0002 – Own work. Licensed under GNU Free Documentation License 1.2 via Wikimedia Commons
Fennel. The World's Healthiest Foods.
Pitchford, Paul. 1996. Healing with Whole Foods: Oriental Traditions and Modern Nutrition. Berkeley, Calif: North Atlantic Books.
Enemas have been used for centuries to cleanse the colon. Simply an injection of liquid via the anus, enemas may help relieve constipation, gas and bloating, cleanse the colon and reduce the body's toxic load. While the idea of giving yourself an at-home enema may seem like a daunting and uncomfortable task, it's actually a very simple process that often feels more awkward than uncomfortable. Enema solutions can help with a variety of symptoms, using one of a variety of recipes.
Aloe vera enemas: soothe and heal hemorrhoids and IBS.
Burdock root enemas: help remove calcium deposits, improving function of kidneys and bladder.
Catnip enemas: ease pain and cramping.
Slippery elm enemas: help correct both constipation and diarrhea, as well as help heal hemorrhoids and inflammatory conditions of the bowel.
Coffee enemas: are famous for their use in detoxifying the liver, intestinal walls and colon and encouraging the release of toxic bile from the system.
Epsom salt enemas: increase the amount of water in the intestine and colon, stimulating a more thorough cleansing of the intestinal tract.
Lemon juice enemas: help rid the colon of excess feces and balance pH levels in the colon.
Salt water enemas: most comfortable and easiest for first time users.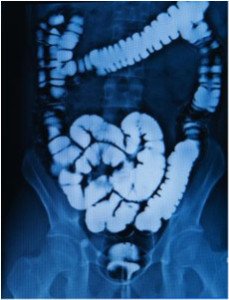 Getting started:
No matter which solution you choose, you'll need to do a few things to get started.
1. Your enema toolbox should include an enema bag with a clamp on the end of the tube to help control the flow and to prevent fluid from leaking out. You'll also want to make sure that the rectal tube is smooth, so as to avoid damage to the rectal lining.
2. You should be near a toilet and near a place to hang the enema bag, such as a door handle or towel bar positioned between 1.5 and 3 feet above the floor.
3. Lay a few old towels and a pillow on the floor for comfort and cleanliness.
4. Heat your enema solution to between 98 and 104 F (37 to 40 C).
5. Ensure the tubing on your enema bag is secure, close the clamp and fill the bag with the warmed solution.
6. With your enema tools in place, lie down on your left side, with left leg straight and bend your right knee toward your chest, resting it on the floor. This will allow for the best reach and easiest enema application.
7. Before beginning, make sure there is no air in the tubing, then test the flow of the solution for a steady stream.
8. Lubricate the nozzle and your anus using a natural oil like organic coconut oil, then insert the nozzle a few inches into your anus, unclamp the tube and relax. If the solution doesn't start to flow, you may have inserted the nozzle a bit too far.
9. When you have finished emptying the enema or have taken in as much solution that you can comfortably hold, remove the nozzle and continue to lie on the floor, slightly clenching your anus to keep solution from leaking and try to hold the enema for 10 to 15 minutes.
10. Massage your abdomen in a counter-clockwise direction to assist the water to flow into the entire colon. When you're ready to evacuate, get up and move to the toilet. You'll want to stay close to a toilet for the next 30 to 60 minutes, as evacuating happens in stages.
11. After your enema, clean and sanitize your enema equipment thoroughly by boiling. Hang the bag and tubes to dry and never store enema equipment while it's still wet as it could grow mold. It is also important to reserve your enema equipment for your personal use only and never share it with anyone else.
As easy as at-home enemas are, it is not something that should be done when you have a list of things to accomplish during the same day. You'll want to rest after your enema, drink plenty of hydrating fluids and maintain a diet of light meals that include nourishing, cooked foods, such as steamed vegetables, for the rest of the day. For general maintenance and colon health it is recommended that you give yourself an enema once a month. And although enemas are generally safe and complications are very rare in healthy adults, it is still recommended that you discuss appropriate enema solutions, precautions and even procedures with your naturopathic doctor before trying this at home.
References
Photo credit. Free Digital Photos.
Lindlahr, Henry, and Victor Hugo Lindlahr. 1931. The Practice of Nature Cure. New York City: The Nature Cure Library, Inc.
"Colonic Enemas – A Naturopathic Treatment". 1998. TOWNSEND LETTER FOR DOCTORS AND PATIENTS. (180): 100.
7 Natural Enema Solutions You Can Use at Home. Flowing Free.
Herbal Enemas for a Happy and Healthy Colon. Flowing Free.
Everything You Ever Wanted to Know About Giving Yourself an Enema and Were Afraid to Ask. Flowing Free.
Become an educated consumer with our Indigo Blogs and prevent dis-ease.
Our Doctors have been featured in: